At Nutrition Kitchen, we love our food to be varied and healthy. No one nation has a monopoly on food flavour - for that reason, we take our cooking inspiration from around the world. Here are a few you may be interested to know more about…
Preserved Lemon Sole Fish with Eggplant Caponata – Monday 22nd March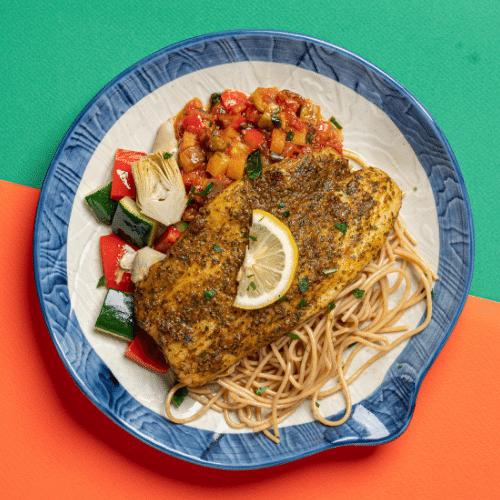 Sicily, the home of Mount Etna, the birthplace of Archimedes and, although fictitious, the Godfather himself - Vito Corleone. It is also the origin of this most simple yet appetising of foods.
The word Caponata has a few potential roots. The most likely one is that of Capone, a fish from the Mediterranean Sea. Being quite expensive for the standard citizen in the early 1700s to source, many would instead replace it with eggplant in their cooking.
Thus the Eggplant Caponata was born. Excellent as a starter, side dish or even main course, it is now a staple of Sicilian cuisine. The flavour of the roasted whole vegetables - the tomatoes, zucchini, onions and olives - will take your taste buds on a tour of the flavours of this wonderful island.
Yoghurt & Tahini Chicken Salad – Wednesday 24th March
Tahini is, in its most rudimentary form, grounded sesame seeds. The crop has been cultivated in what is now modern day India for almost 7000 years. As a robust flower that needs little farming support, it is perfect for growth in places of high heat, drought and even during the excessive rain of the monsoon season.
Used in Middle Eastern cooking, it is a versatile foodstuff. Mixed with garlic, lemon juice, salt and thinned with a small amount of water, it can be made into tarator; a delicious dip that, with ground chickpeas, becomes hummus bi tahini.
Mixed with our chicken salad, the lightly toasted sesame seed flavour combines with the richness of the yoghurt for a creamy outcome which will send your senses into a whirlwind of delight.
Makhani Coconut Chicken Curry – Friday 26th March
In the early days of the new Republic, a man named Kundan Lal Gujral owned a restaurant in the capital of India, Delhi. By chance, for they had been mixing leftover tandoori chicken in a simple tomato gravy, his cooks stumbled across what would become one of the world's most famous curry's.
Kundan's restaurant, the Moti Mahal, quickly became a famous attraction and its creation spread to other areas of the globe. Nowadays, marinated for many hours in a yoghurt blended with spices, Makhani Coconut Chicken Curry is typically cooked in a tandoor oven before being served in a mild curry sauce rich with butter.
It may taste like a cheat meal, but we can assure you it isn't.
That's some of this week's. What about next?
Pulled BBQ Chicken – Monday 29th March
The prospect of slow-cooked anything is enough to make our mouths water with anticipation. The flavourful bursts that accompany every chew of this deliciously tender chicken can be traced to the art of 'hog roasts'.
Smoking meat dates back to Native Americans and their influence on Spanish settlers in the 16th century. The Spaniards, far away from home and with no means of refrigeration, noticed locals used the smoke of fires to keep bugs away and preserve the meat of their day's catch.
Adopting this method, American Southern States (of which there is a large Spanish influence) soon became ubiquitous with the much loved tradition of BBQ.
Cajun Crusted Atlantic Cod – Tuesday 30th March 
Not a million miles away from the origin of our Pulled BBQ Chicken, Acadian immigrants, who fled Canada after refusing to pledge allegiance to the British Crown in the 1750s, brought to Louisiana their rural French recipes. They had passed these down since their ancestors settled off the coast of North America in the early 1600s. 
Adapting their recipes to local ingredients (a lot of fish), introducing unfamiliar elements like bell peppers in place of carrots and new spices like black pepper and cayenne, the spicy notes and heartiness for which we know this style of cooking were born.
Shakshuka Tomato Sauce – Thursday 1st April

Today, we may heavily associate the dish with Israel and the Middle East, but it likely came from multiple sources. In its simplest form, it is a tomato based meal, spiced with peppers and onions. Eggs are thrown into the mix as well.
Some historians suggest it originated in Yemen whilst others suggest it came from the Ottoman Empire's similar tomato based Saksuka. For Israelis, it most likely came from North African immigrants of Jewish origin. 
As an affordable, hearty and healthy meal, it was popular with those that had little money. Besides this, it only required one pan to cook, a convenient way to feed an entire household at once.